Water Heaters
At Plumbing Pros, water heater replacements are our specialty!! We are educated on new water heater energy standards, and will retro fit any new unit with the least amount of disruption to your existing system. We believe that a healthy, well-maintained water heater will sustain your comfort longer while saving you money and headaches. All water heaters will eventually rust out and fail if not properly maintained. A water heater replacement can be an unexpected big expense and can be prevented with annual maintenance. Just like regular exercise and a good diet is key to a long life, so is having your water heater serviced and flushed every year. In fact, servicing your water heater annually can double the life of the unit, saving you thousands of dollars.
Tank Style Water Heaters (most common) Gas/Electric:
Most water heaters are tank style models. These are insulated tanks holding 20 to 120 gallons with either electric heating elements or gas burners. The storage tank stratifies with hot water at the top and cold incoming water at the bottom, so that as you draw off hot water (from the top), you get consistently hot water until the hot water is nearly depleted. The "first-hour rating" tells you how many gallons of hot water can be delivered in an hour.
Tank style water heaters constantly lose heat through the tank walls. Even though the tank is insulated, the difference in temperature across that insulated wall is large, so even with a lot of insulation the stand-by heat loss is substantial. Gas-fired tank style water heaters that have standing pilot lights replenish some of that lost heat with the pilot, but most of the pilot's heat is lost up the flue.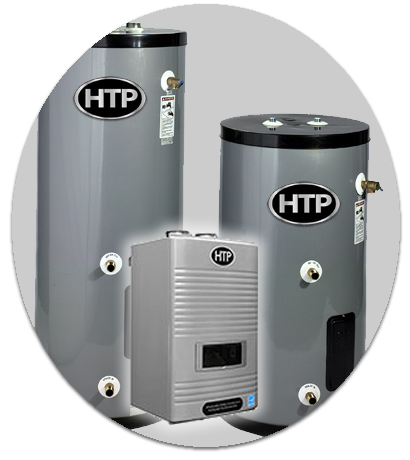 Tankless Water Heaters - Gas/Electric:
To address the issue of standby heat loss and running out of hot water, tankless water heaters (also referred to as demand water heaters) were developed decades ago. These are sometimes installed at the point of use, say in a bathroom, but typically are installed centrally in place of standard, storage water heaters.
A great feature of tankless water heaters is that they never run out of hot water—assuming the water heating capacity large enough to supply the needed hot water demands. They also don't have stand-by losses. Because hot water isn't stored in a tank, there is no heat loss when the water heater isn't operating, although there will be some minor losses through the pipes during use.
Some of our water heater services we provide:
• Water Heater Repairs
• Water Heater Replacement
• High-Efficiency Water Heaters
• High-Recovery Water Heaters
• Water Heater Tune & Flush
• Electric Water Heaters
• Propane Water Heaters
• Gas Water Heaters
• Tankless Water Heaters
• Hybrid Water Heaters
• Instant Hot Water Heaters
• Recirculating Pumps
• Servicing All Makes & Models!
• Servicing All Brands!